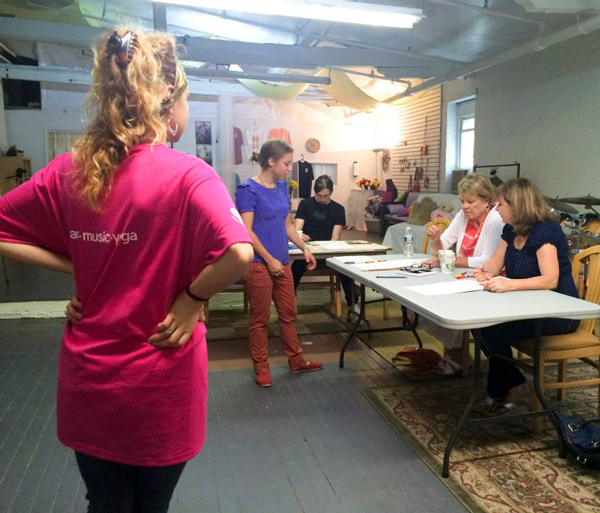 Whether you are a seasoned Picasso or just picking up a brush we have something for you!
Divine Shakti Arts offers art lessons and classes at The Red Dot Kitchen for people of all ages with all levels of experience. You can learn painting fundamentals, refine your brush stroke, practice color theory and more! All artist styles are welcome at the art lessons and classes. We offer individual art lessons and also group art classes, check our events calendar to see if any group classes are coming up. The experienced artists at Divine Shakti Arts would love to help you nurture your creative side. Both of our current art instructors have received Bachelor's Degrees in Fine Arts and have been studying and teaching art lessons and classes for quite some time now. Divine Shakti Arts provides them a wonderful opportunity to share their knowledge with you.
"Our son Hunter has been taking drum lessons with Mike McDonough for about 3 ½ years now. We thought starting at such a young age would be a challenge for any teacher. Mike's calm demeanor and creative approach consistently kept Hunter engaged and excited to learn, play, and have fun. Mike has shared his amazing talent with Hunter on so many levels. Hunter's love of music is certainly fueled by Mike's passion and dedication."
"Divine Shakti Arts is a wonderful, hidden gem located in Wurtsboro, NY. We were looking for a place to continue my two daughter's guitar and art classes, and we were so lucky to find Mukta and this beautiful, open, welcoming space! Penny learned new painting techniques and created beautiful work and Viv learned new chords and strums alongside Mukta's drumming. Mukta's generosity, flexibility, and calm energy were so appreciated and I even sat in at one of his open drum circles! Thank you Divine Shakti Arts for the space to create!"
Want to know more about our Art Class?