Wild Edible Plant Walk
Event Date:
October 10, 2023
Event Location:
171 Sullivan Street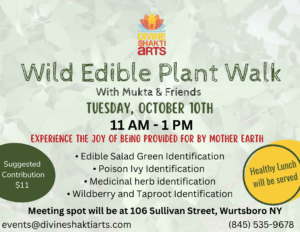 Join us for an informative walk on the local trails to locate the wild edible plants growing around us. All are welcome to come to share their knowledge and skills of nature for the benefit of the community.
A simple lunch will be created after the walk at our store where we can discuss more regarding wilderness awareness and other related topics.
Sorry, this event is expired and no longer available.